Romantic Harp Music for Big Island Weddings & Vow Renewals
Each Hawaii Wedding Ceremony Harp Music Package includes: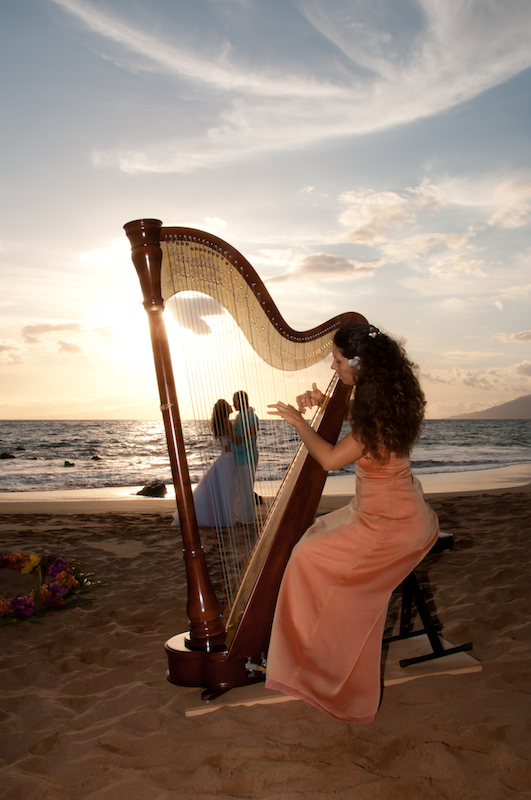 Prelude - usually 15 minutes before the ceremony as guests arrive
Ceremony - processionals, ceremonial music, and recessional
Exit Music - usually 15 minutes after the ceremony as guests depart
Free phone consultations for pre-event planning and music selection
Reception / Cocktail Hour (optional) extra per additional hour (30 minute minimum), a combined package price can be offered upon request.
Extended stay for stunning wedding pictures (optional) with the harp, perfect for sunset and beach wedding ceremonies!
Traditional Hawaiian Wedding music on the harp: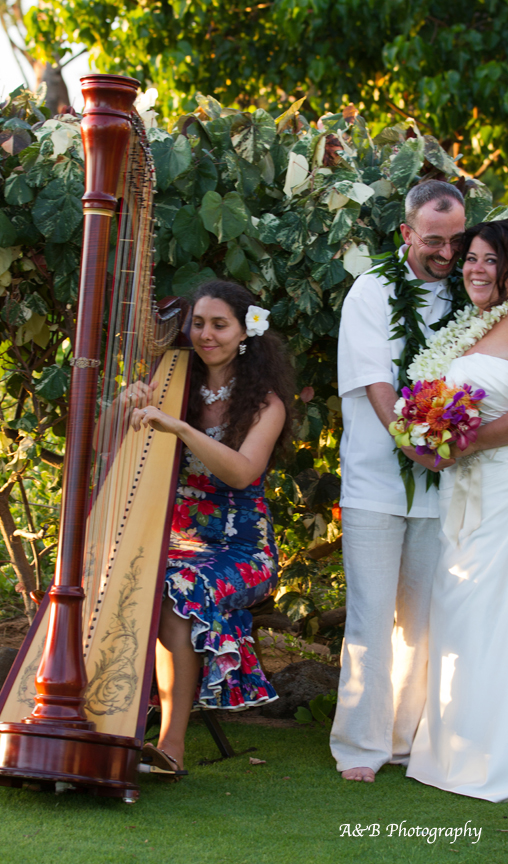 I am very pleased to offer now a great selection of traditional Hawaiian music, performed on the harp for your Big Island/ Kona wedding ceremony.
Enjoy the exotic ceremony location of our beautiful island of Hawaii - Big Island along with romantic unforgettable sounds of the harp performing Hawaiian songs during your ceremony!
My Hawaiian themed harp package is a unique offer on the Hawaiian islands! This is a way for you to make your wedding ceremony very special.
Please contact me for all the details and to get your special rate.
Private consultation (optional)
I am always available to discuss everything in detail! Please contact me anytime with your questions and inquiries by phone or email!
Corporate Events
Please contact me to discuss the details of your event and I will get back to you with a quote based on your inquiry
Additional Fees
Fully customizable to meet your personal needs and desires (prices may change)
For locations on thew South of of the Big Island or for other Hawaiian Islands. please contact me for a special rate.
Same rates are available for anniversaries, birthdays, parties etc.
Kama'aina Rates
In support of the local community, I am offering very special discounted rates for all local groom and brides. Please call me at (808) 344-9046 or email me at This email address is being protected from spambots. You need JavaScript enabled to view it. for your special rate. Mahalo!
In addition I am available for the following services on the Big Island of Hawaii:
Grand openings and celebrations of art galleries, stores, hotels & restaurants.
Personal events such as birthdays and family gatherings of all kinds.
Festivals, community events, church and worship services
Session musician for studio work and orchestral musician
Classical Solo Recitals and orchestral performances
Special Hawaiian Music performances on the harp solo or optional with hula dancer and singer
Healing and spiritual therapy music sessions and workshops
All my harp performances are available either with the Grand Concert Harp or a slightly smaller Celtic/ Lever Harp I perform solo and/or with additional musicians (Soprano singer, Flute, Violin, Piano, Ukulele, Guitar, trio, quartet, chamber ensemble, orchestra).
Please note:
The actual rate depends on several factors. To receive an accurate price quote for your specific event, please contact me via email at This email address is being protected from spambots. You need JavaScript enabled to view it. or call me at (808) 344-9046 with your specific needs.