Heavenly Harp Music on the Big Island of Hawaii
Make your Big Island of Hawaii wedding sound as beautiful as the love in your hearts!.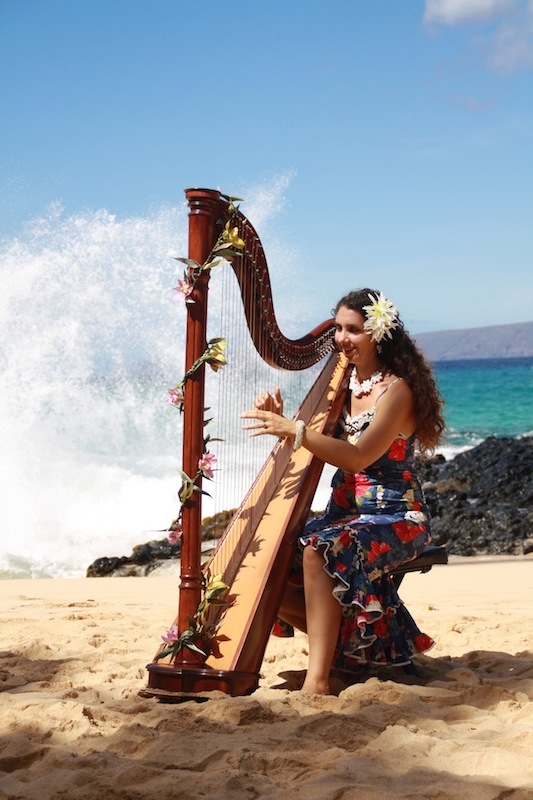 The harp is the ultimate instrument for your romantic wedding or vow renewal ceremony. No other instrument can deliver such elegance, romance and beauty - it is truly the instrument of angels. It is also perfectly suited for Big Island weddings or vow renewal ceremonies because only the harp can render all musical styles - from classical romantic and modern pop rock to traditional Hawaiian songs.
For the past 18 years Harpist Tatyana has enchanted many proposals weddings and vow renewal, with her professional compositions and arrangements. Enjoy the sounds of heaven with the harp for your perfect day here in our pacific paradise on the Hawaiian Islands.
Harpist Tatyana has a large repertoire to meet your specific needs for your Hawaiian wedding date in Kailua-Kona, the Kohala coast, Waimea - Kamuela or Hilo - Hamakua coast. She performs solo or accompanied by other musicians and travels all across the Island of Hawaii.
Please contact Tatyana to obtain a personal quote or if you have any specific inquiries. You can also book Harpist Tatyana through the wedding coordinator of your choice.
NEW on Big Island - Hawaii: Tatyana is offering now traditional Hawaiian music on the harp! Enjoy the exotic ceremony location of our beautiful island of Maui along with romantic unforgettable sounds of the harp performing Hawaiian songs during your ceremony! Call your Big Island of Hawaii wedding coordinator and request Harpist Tatyana "Hawaiian Style" or call now to book Tatyana!